1. White corundum abrasive is very hard, its hardness is higher than corundum, while toughness is lower. White corundum grinder mounted stones can fast and precise grind workpieces, but creates less grinding heats.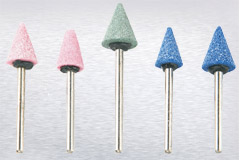 2. White corundum mounted stone wheels are suitable for grinding workpieces made of quenching steel, steel, high-carbon steel and other materials of high strength and high hardness. It can also be used for machining threads, gears and thin-walled parts.
3. White corundum grinder mounted stones are used on the inner circle grinder, cylindrical grinder, flat grinder, unintentional grinder, and a variety of special grinders. It is also available to semi-fine grinding.