Aluminum oxide
The aluminum oxide is a great choice for smaller jobs and provides a low-cost and consistent option. It is seen as the first type of metalwork abrasive being used to make coated cutting disc.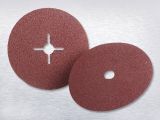 Zirconia alumina
Zirconia alumina is designed to combine aluminum oxide and zirconia which makes a practical choice for working with mild steel or carbon applications.
Ceramic alumina
Ceramic alumina is a very popular material. This type of grit has a grain that is designed to micro fracture which means it is able to stay sharp for a lot longer than most other alternatives, on other words, the use of coated cutting disc made of the ceramic alumina can reduce the cutting time.