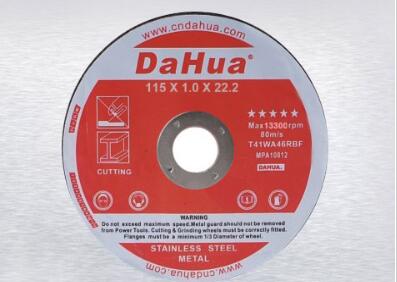 When using the ultra-thin cutting wheel, if you do not follow the correct usage method, it will not only cause damage to the cutting wheel, but also personal safety accidents. What are the difficult issues that need to be paid attention to during use?
  1. Wear protective glasses, masks, earplugs, gloves, dust-proof clothing and other protective tools.
  2. Both angle grinders and cutting machines should be equipped with safety covers.
  3. Do not use the resin chip side.
  4. Use the correct flange.
  5. When using the maximum cycle speed of the ultra-thin resin cutting blade, the angle of rotation must be properly controlled.
  6. The warehouse for storing ultra-thin cutting wheels should be ventilated and dry, not in a humid environment, and placed horizontally.
  7. It is necessary to check whether the ultra-thin cutting wheel has edges, cracks, cracks, etc. before use.
  8. If the inner diameter of the ultra-thin cutting wheel does not match the equipment, the diameter of the grinding wheel cannot be changed forcibly.
  9. When cutting, the material to be cut should be fixed firmly.
  In order to ensure the efficiency of the work, when using the ultra-thin cutting wheel, the above points should be paid attention to. I hope that every time you use the ultra-thin cutting wheel, you can use it safely.