Bonds of China cut-off wheel can be made of organic substances. The most common organic bond type is the resinoid bond, which is made from synthetic resin. Wheels with resinoid bonds are good choices for applications that require rapid stock removal, as well as those where better finishes are needed. They are designed to operate at higher speeds, and they are often used for wheels in fabrication shops, foundries, billet shops, and for saw sharpening and gumming.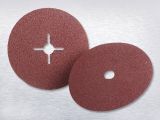 Rubber is another one of the organic bond. Wheels made with rubber bonds offer a smooth grinding action. Rubber bonds are often found in wheels used where a high quality of finish is required, such as ball bearing and roller bearing races. They are also frequently used for cut-off wheels where burr and burn must be held to a minimum.
The strength of a bond is designated in the grade of the China grinding wheel. The bond is said to have a hard grade if the spans between each abrasive grain are very strong and retain the grains well against the grinding forces tending to pry them loose. A wheel is said to have a soft grade if only a small force is needed to release the grains. It is the relative amount of bond in the wheel that determines its grade or hardness.