In recent years, with the rapid development of high-speed and ultra-precision grinding technologies, a higher demand for the existing China grinding disc is obvious on the market, ceramic resin bonded grinding wheel can not meet the production needs, whilst the metal bonded grinding wheel, because of its notable features of high bond strength, good formability and long service life, has been widely used. Diamond tools having the advantages of simple plating process, low investment and easy manufacture attract more and more attentions.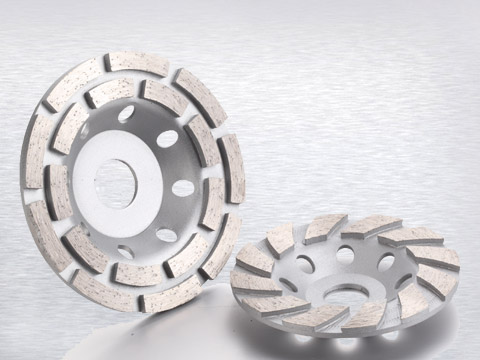 A diamond grinding cup wheel is a metal-bonded diamond tool with diamond segments welded or cold pressed on a metal wheel body, usually looks like a cup. There are many diamond tools manufacturer that produce various styles and specifications of diamond grinding cup wheels to fit for various application requirements. These products are used in the construction and home improvement industry for cutting, grinding and polishing concrete, hard concrete, marble, granite, field stones, paint removal and coating removal.
When choosing what kind of diamond cup wheels should be adopted in your application, you should first examine the nature of the job you are going to perform. The ones with big diamond segments can undertake heavy workload such as for grinding concrete and stone, while the ones with sparse diamond segments are often used for epoxy coatings, paints, glues and other surface coatings.